About this course:
This is a skill-based certification course of Graphics, Web, Motion Graphics & UX/UI design with duration of 11 to 12 months. This course provides full fledge training of all the tools of Graphics, Motion Graphics, UX/UI and various languages such as HTML, CSS which are essential to learn web designing. Students will learn how to create videos containing animation & special effects for related projects. This course by creative concept® also offers expertise guidance into what the UX/UI researcher/designer does and how their work brings value to the process and product. It covers the design, prototyping, and evaluation part of user interfaces for applications. Additionally, it also provides complete knowledge of vector based software like CorelDraw and other software of adobe such as Illustrator, Photoshop and InDesign. Students enrolled for this course at creative concept® will also equip themselves with the comprehensive knowledge required to create videos containing animation & special effects for related projects. They will also learn how to use After Effects to create animations from scratch, Premiere Pro for editing video & mixing sounds and Adobe audition for effortlessly creating sound effects.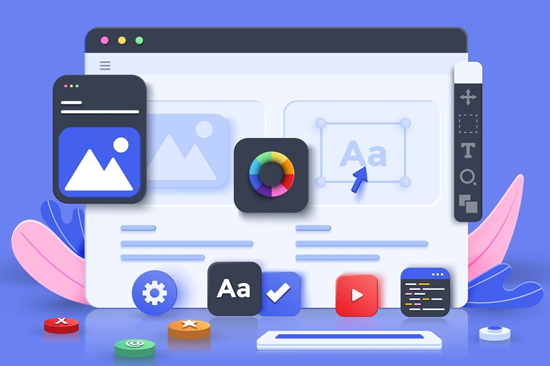 What you'll learn?
PHASE 1:
Design Tools
Adobe Illustrator
Adobe Photoshop
Adobe InDesign
CorelDraw
PHASE 2:
Branding
Internal Branding
External Branding
Digital Media Branding
Print Media Branding
PHASE 3:
Working on Portfolio
Logo Design
Visiting card Design
Letterhead Design
Envelope Design
Brochure Design
Theme Design
Apparel Design
Stationery Design
Newspaper Ads
Creative Banners
Magazine Design
&nbsp
&nbsp
Digital Publishing
Photo Manipulation
Website Design
Web Banners
GIF Images
Hoarding Design
Standee Design
Kiosk Design
Sign Boards
Bus shelter ad Design
Social Media Creatives
UX-UI Design
PHASE 1 OVERVIEW OF UX AND UI
Introduction to the course, What is User Experience and User Interface, Difference between UX & UI, Examples of great UX & UI.
---
PHASE 2 UX DESIGN
INTRODUCTION TO UX: Introduction to UX, Understanding Human Computer Interaction, GOMS, Model Human Processor, Introduction to Task Analysis. Hierarchical Task Analysis, Cognitive Task Analysis, Introduction to Interaction Design (IxD), Usability, Usability as a Measurement, Usability as Design Approach.
HUMAN FACTORS: Human Factors, Ergonomics, Human Factor - Case Study, Ergonomics for UX designers.
UX LAWS: Fitt's Law, Hick's Law, Millers's Law: The magic number, Jakob's Law, The Von Restorff Effect, The Pareto Principle.
HUERISTIC EVALUATON: Introduction, Definition & concept, Severity Scale, 10 Laws of Hueristic Evaluation, Case study of Google Pay, Case study of NSE.
UX RESEARCH: Introduction, When to do research? - Conceptualising, Design, Refining, Generative of Formative research, Evaluative research, Introduction to Data types, Quantitative Data, Qualitative Data, Difference between Qualitative and Quantitative research.
UX RESEARCH METHODOLOGY: Introduction - Observation, Understanding, Analysis, Questionnaires and Surveys, Introduction to Interviews, Types of Interviews, Usability Tests, Types of Usability Tests, Tree Tests, A/B Testing.
INTRODUCTION TO USER RESEARCH TOOLS: Ethnic, Optimal Workshop, Survey Monkey, UsabilityHub, UserTesting.com, UserZoom, Hotjar, Morae.
DESIGN PROCESS: Introduction to Design Thinking, What is Empathize, Define, Ideate, Prototype and Test, Deliverables included in Design Thinking, Introduction to 6D Process, Deliverables included in 6D process.
---
PHASE 3 UI DESIGN
INTRODUCTION TO UI: User Interface, User interaction.
SOFTWARE: Adobe XD/InVision.
BUILDING BLOCKS OF VISUAL DESIGN: Elements of Design, Principles of Design.
TYPOGRAPHY: Difference between Font & Typeface, Font Types, Leading, Kerning, Letter Spacing, Legibility & Readibility, Typography Rules.
COLOR THEORY: Color Wheel, Color Properties, The Art of combining colors, Color Schemes, How to get color inspirations.
LOGO DESIGN: Points to consider while logo design.
ICONOGRAPHY: Icon Formats, How to create icons, Do's and Don'ts.
MOODBOARD: Introduction, Moodboard benefits, Keywords, Style, Color scheme, Typography, Inspirations, Design Patterns, Moodboard Examples- Google Trip app redesign.
DESIGN FOR MOBILE: Responsive Design, Native app design, Hybrid app design, Things to consider, Screen Resolutions, Screen Vs Image Resolutions, Styleguide, How to share assets with developers.
GRID SYSTEM: Introduction, History, Types of Grid, What is 960 grid system.
STARTING WITH DESIGN: Margin, Spacing, Achieving consistency in Margin & Spacing, Font & Color Hierarchy, How to build aesthetic layouts.
ANDROID & IOS GUIDELINES: iOS App structure, Android App structure, Difference between Android and iOS app design.
LATEST DESIGN TRENDS: Minimalism, Flat color schemes, Gradients coming back, Material Design, Card Based Designs.
---
PHASE 4 CAREER PREPARATION
How to create compelling UX/UI portfolio and resume, Get feedback from mentors, Interview Sessions.
---
PLUS
Google Sprint - EnJoin Case study, User Centric Vs Product Centric Design, Team Bonding Activities and Simple every day life related assignments to understand UX easily.
Web Design
PHASE 1:
Chapters
HTML5
CSS3
JavaScript
jQuery
Bootstrap
Wordpress
Motion Graphics
PHASE 1:
Adobe After Effects
The basics of creating projects, compositions, and layers
Importing footage, including video, audio, and images
Creating special effects
Creating animation for shapes, objects, and layers
Animating text
Creating and using masks and track mattes
Working in 3D animations
Extracting and removing objects from layers
Export video
Adobe Premiere Pro
Nonlinear editing in Adobe Premiere Pro
Setting Up a Project
Importing Media
Organizing Media
Essentials of Video Editing
Working with Clips and Markers
Adding Transitions
Advanced Editing Techniques
Putting Clips in Motion
Multicamera Editing
Editing and Mixing Audio
Applying effects in the Audio Mixer
Adding Video Effects
Managing Your Projects
Exporting Frames, Clips, and Sequences
Adobe Audition
Audition tool includes sound multitrack, waveform, and spectral display for creating, mixing, editing, and for restore the audio content.
PHASE 2:
Digital Media Branding
PHASE 3:
WORKING ON PORTFOLIO
Learn to create animated resume/portfolio.
Learn to create animated Social media ads.
Learn to create animated digital story.
Learn to create Video Invitations.
Adobe Audition
Audition tool includes sound multitrack, waveform, and spectral display for creating, mixing, editing, and for restore the audio content.